Automotive Glass Manufacturing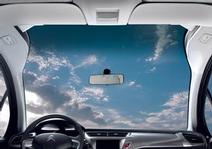 The European market leader in the supply of Automotive windshield and commercial plate glass has been successfully using Capacitec high temperature non contact displacement technology over the past 20 years to maximize the throughput and quality of their high volume glass products.
In the automotive application car windshields are manufactured in high volume 24 hours a day with very demanding environmental conditions. The capacitive sensors control the tooling geometry as part of the feedback loop to control parts quality of the windshields. Model HPT-500-V high temperature displacement sensors equipped with flexible high temp cables are exposed to 1,300°F (700°C) in the high temperature glass molding operation. They are also required to survive the daily thermal shock cycles from 1,300°F to 77°F (700°C to 25°C) when the equipment returns from production to ambient temperature during shift changeover.

Metrologie Conference Extreme Environment Poster showing Glass Manufacturing