LiniGage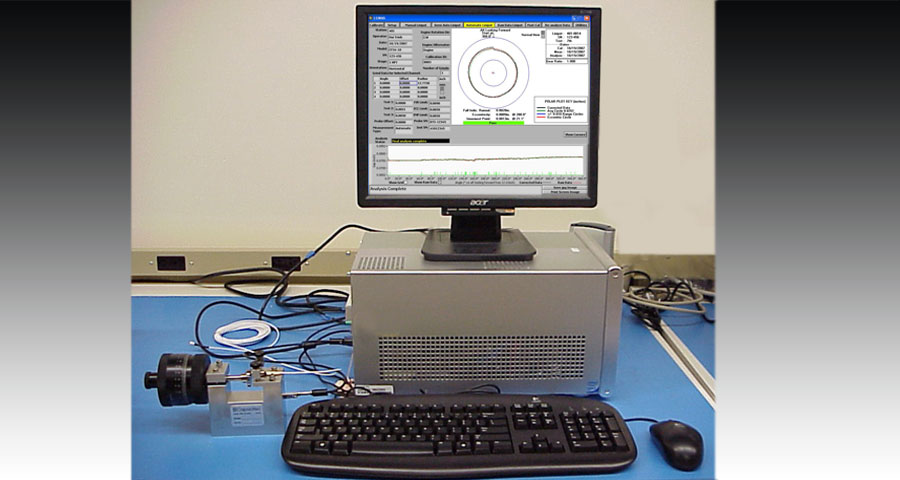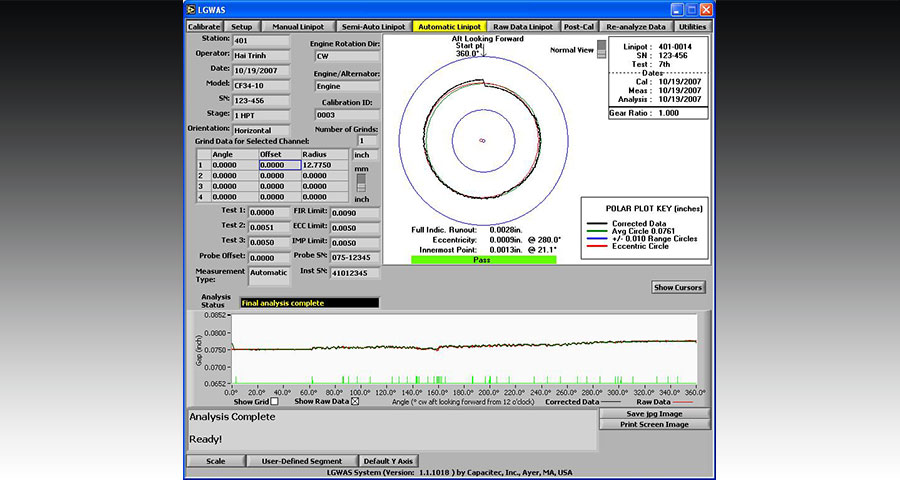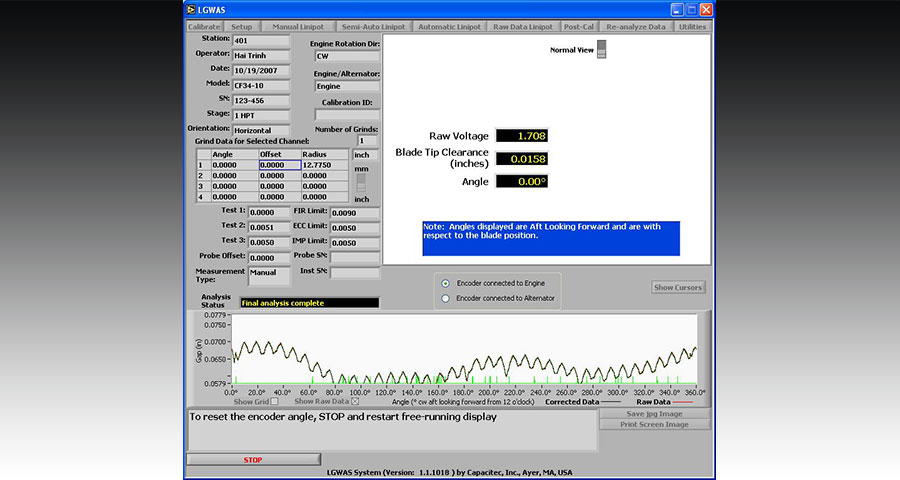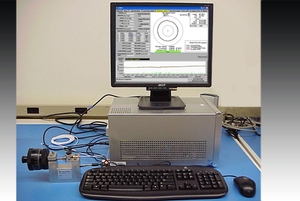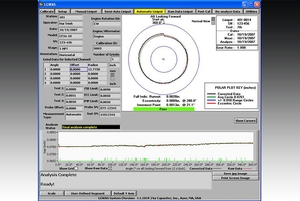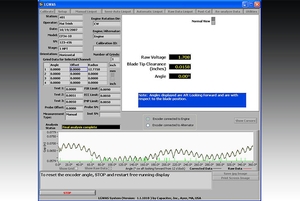 LiniGage System
The Capacitec LiniGage is a Custom Aircraft Engine Rotor Eccentricity Realignment System that is used to set the concentricity of engine rotor assemblies such as in the HPC and HPT sections after re-build for the GE /CFM International Family of Aircraft Engines. A 0.220" (5.6mm OD) non-contact displacement sensor is temporarily attached to the tip of one of the blades at an air gap of approximately 0.040" (1mm) to the inside diameter of the casing. A lead is typically wrapped two or three times around the circumference of the rotor and exits the engine casing through a convenient bore scope hole and connected to the LiniGage electronics. The rotor is turned 360° allowing the sensor to measure the air gap between the blade tip and the engine casing inside circumference. The LiniGage custom software takes the air gap values and polar plots the circumferential blade gap and calculates the eccentricity magnitude with its resultant angle. An out of spec eccentricity plot then allows the engine rebuild technician to easily identify where to make casing positional adjustments to normalize the casing position for the best eccentricity and run out values. These actual values are compared to customer limits creating a permanent quality record.
The original DOS based LiniGage system was introduced in the late 1980s and there are more than 100 systems currently in operation worldwide at engine manufacturers and rebuild centers.
New LiniGage System
The new recently introduced Capacitec LiniGage runs on Microsoft Windows 10® and offers even more benefits to engine manufacturers and users due to the following features and benefits:
| | |
| --- | --- |
| Features | Benefits |
| Single rotor and custom multi-rotor, multi-engine HPC/HPT air gap measurements | Simultaneous gap, eccentricity and FIR measurement using one system, can easily program any new engine style |
| Microsoft Windows 10® software platform | Very easy user interface, PDF and exportable data files to standard software packages. |
| Multiple ID grinds | Compensation for multiple internal grinds w/o affecting FIR (full indicated runout) |
| Measure engine in vertical or horizontal positions | Mathematical compensation for gravity "droop" in horizontal position |
| Higher resolution encoder | Better data fidelity |
| ISO9001 certified calibration method | Measurements traceable to worldwide standards |
| CE Rated | International Approved Standard |
New LGWAS
A new recently introduced Windows based LGWAS (LiniGage Windows Acquisition System) was developed to replace the DOS based LGDAS. It also supports the GE/CFM International CFM 56 AND GE 34-10 engine programs during rebuilding of these engines worldwide.
It shares the same Features and Benefits as the new recently introduced Capacitec LiniGage seen on the above table except for the custom multi-rotor, multi-engine HPC/HPT air gap measurements feature.
LGDAS

DOS Based Retired System

The Capacitec LGDAS (LiniGage DOS Acquisition System) is also an Aircraft Engine Rotor Eccentricity Realignment System. It is used to set the concentricity of the HPC and HPT sections of GE/SNECMA CFM 56 and GE 34-10 engine rotor assembly during rebuilding of these engines worldwide.

The original DOS based LGDAS system was introduced in the late 1980s and there are more than 100 systems currently in operation worldwide at engine manufacturers and rebuild centers.

Additional details of the LiniGage found in the Aerospace Brochure