Aircraft & Aerospace Structures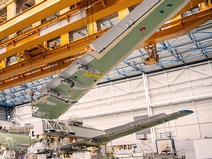 The supply of non-contact gap and hole mapping sensors to Major Commercial and Military Aircraft Manufacturers such as Boeing, AIRBUS, Bombardier, Embraer, Alenia, Lockheed Martin, Textron, Northrop, Boeing/Bell Helicopter, BAE, and MHI etc. is a major market for Capacitec.
Aircraft Shimming Operations
This started in the mid 1990's with the qualification of the GapmanGen3® portable "electronic feeler gage" that replaced feeler gauges in aircraft assembly shimming operations. The Gapman® features a dual capacitive sensor for position-compensated measurement and easy insertion into very narrow gaps down to 0.004" (100 microns) in a wide range of aerospace applications.
Key Gapman® Features
Measures gaps between all metal and carbon composite (CFRP) surfaces
Microcontroller based and application software driven,
Records and stores up to 1,000 data points for easy transfer to SPC and other quality systems via RS232
Typical accuracy is +/- 0.0005 (12.7 microns) or better over a 0.100" (2.5mm) range and resolution of 0.0001 (2.54 microns)
Battery operated and lightweight (approx. 1lb/454 grams)
The most popular aerospace-related application for the Gapman® is commercial and military aircraft assembly and in particular its use in the shimming process. It has been documented that use of the Gapman® within these application environments has reduced required shimming time by five times over the previously implemented feeler gauge methods. As a result, hundreds of robust Gapman® units have been in use for more than a decade during three-shift operations within this tough shop floor environment.
GapmanGen3_Aircraft_Applications_Oct_2015 article
Aircraft CFRP shimming article