Aircraft Engines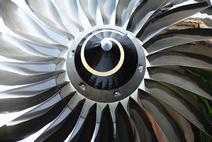 Aircraft Engine New and Rebuild Applications
Blade tip gap measurement of compressor and turbine stage for concentricity
Fan Blade clearance measurement using newly developed contact type gap sensor wands in conjunction with GapmanGen3 ®
Displacement measurement up to 1832°F (1000°C) temperature conditions in engine R&D.
Spin pit rotor rotational vibration
The supply of non-contact displacement and gap sensors to major Commercial and Military Engine Manufacturers such as GE, SNECMA, P&W, Rolls Royce, MTU and Mitsubishi is Capacitec's core business.
Small sensor size with long cable lengths and wide linear range are some of the determinants driving the increased demand for these sensors. The benefits fall into the two major categories of improving quality/performance and reducing rebuild time and cost.
Aircraft Engine Rotor Eccentricity Realignment
One of Capacitec's original applications in the 1980's was the implementation of the LiniGage engine eccentricity tool used on 100% of CFM 56 engines during rebuild. This tool provides the best technologies for the centering of aircraft engine rotor to case assemblies. A new Windows XP® based LGWAS engine eccentricity tool was launched in 2007.
The new multi-channel LiniGage running on Windows XP® offers even more benefits to new engine manufacturing designs where multiple rotor gap measurement may be performed simultaneously.
Engine Fan Blade Length Measurement
Another major aircraft engine non-contact displacement sensing application for Capacitec is engine fan blade length and blade tip gap measurement for GE90, CF6, RR Trent, MTU and others.
To enhance efficiency and safety Aircraft manufacturers need to know the fan blade lengths during initial assembly and after engine rebuild. Current mechanical gap measurement methods, such as step gages and shims, cannot meet the latest quality requirements such as Six Sigma since they fail to pass Gage R & R. In response Capacitec has developed a special "electronic blade length gage" that operates as follows:
An HPB-150 non-contact displacement sensor is installed in a custom fixture that precisely positions the sensor onto the engine cowling interior with the sensor facing up under the fan blades.
The fan blades are rotated 360º with each blade passing over the sensor. (Two sensors can be installed in the fixture if leading and trailing edge measurements are required)
A single channel electronics package including a Bargrafx peak read software application interrogates each sensor signal and displays the blade length while recording the results on a laptop.
Fan Blade Length Measurement SPC
A portable gap measurement instrument is used when Aircraft Engine rebuilders are looking for a replacement to mechanical contact step gauges used to measure certain gaps between fan blades and engine casing. This system works as follows:
A double-sided GPD4 non-contact gap sensor wand is installed between two flexible leaf springs placed on top to provide a compressible metal wand
When the Spring Contact Wand is introduced into the gap, the leaf springs flex inward toward the sensors giving a precise reading of the gap.
The sensor wand can either be integrated into a portable Gapman unit or alternatively into a Gapmaster3 electronics package with a remote wand option.