5000 Series Modular Non-Contact Capacitive Displacement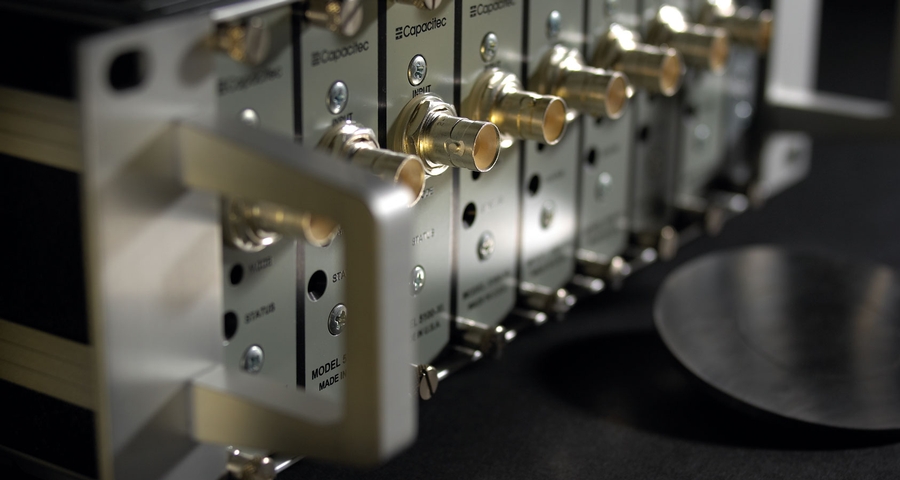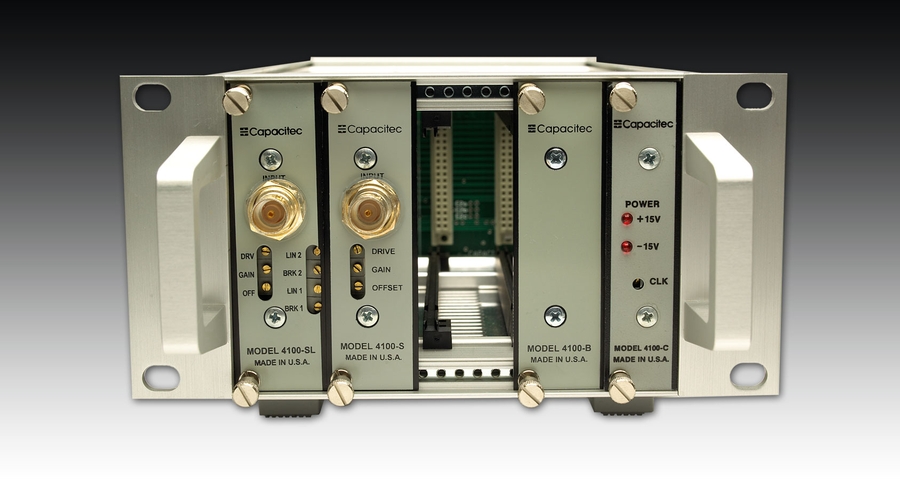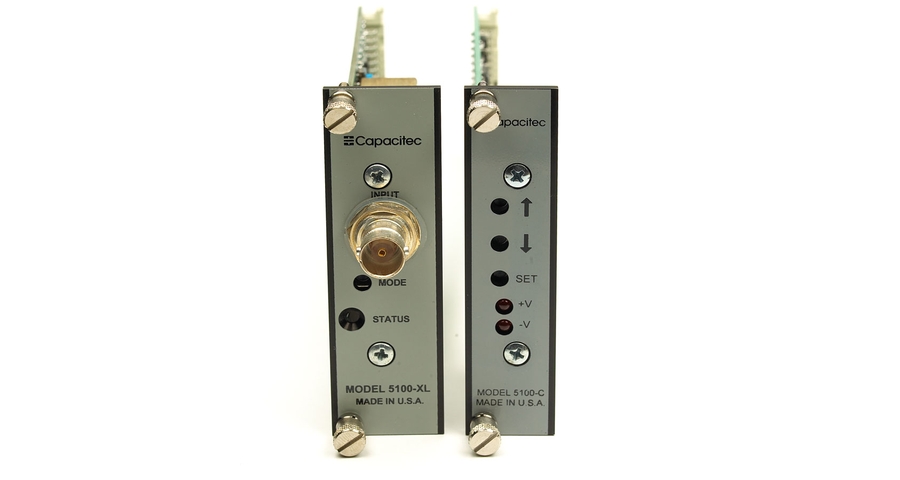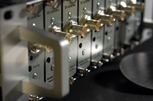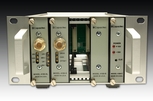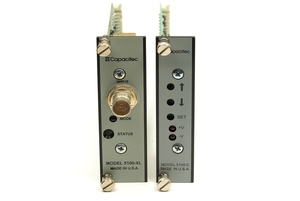 5000 Series - DISCONTINUED
Additional Options
The 5100 series amplifiers are repairable, the processors are not repairable - please contact the factory for options
5000 Series
The digital 5000 Series modular non-contact capacitive displacement instrumentation packages are the next generation to the 4000 series. Introduced in 2005, they provide the latest state-of-the-art electronics and offer significant added value to users such as:
• On-board digital linearization (linearity to ±0.1% of full scale)
• Pushbutton calibration - no potentiometers
• Switch selectable filter response: 3.1kHz, 5.7kHz, 8.1kHz, & optional11.2kHz, to +/-3dB
• Variable frequency excitation switch
• Improved performance and stability with high temperature and long cable length probes

The 2U Euro modular form factor boards have appeal for small portable packaging as well as high (but lightweight) density applications. When coupled with Capacitec® non-contact displacement probes, they produce a linear output voltage proportional to the gap spacing between the probe and a ground plane. The systems are designed to produce stable and reliable operation with excellent gain and zero shift stability with respect to changes in ambient temperature. Stability is achieved with a digitally derived sine-wave oscillator, having a crystal clock as the frequency reference.

The multi channel capacitive amplifier systems are configured according to your specific needs with the following choices:

Capacitec 5000 Capacitive Series Racks:
4004: The 4 Channel rack (front view) is about 5" wide with 5 actual slots and holds up to 4 capacitive amplifier cards with individual 0-10VDC analog outputs and a clock driver card in the last slot. The rack's rear panel holds a BNC female connector for each primary analog output plus a 24-pin analog output connector with three input/outputs for computer or data acquisition interface and option cards.
An internal AC power supply is available standard by signifying -P100, -P115, -P220 or -P240 (AC). A ±15VDC/350mA power supply, which provides 3 additional 5 VDC, signals with a - 5VDC suffix option to the AC rack is also as an option. Optional DC/DC power supplies are available upon request.
4008: The 8 Channel rack (front view) is about 9" wide with 9 actual slots and holds up to 8 capacitive amplifier cards with the same standard features as the 4004. The power supply options are also the same except the ±15VDC power provides 500mA.
Capacitec's 5100 Series Signal Conditioning Capacitance Amplifiers:
5100-XL: Single channel capacitance amplifier card, 2U high with a one-inch wide rack mountable front panel with on-board digital linearization (linearity* to ±0.1% of full scale) with 0.01% repeatability. The 5100 front panel has a push button calibration and internal switch selectable filters plus unipolar or bipolar voltage output.
5100-B: A one-inch wide protective blank panel is available to cover empty slots.
* linearity and repeatability based on a system configuration of Model 150 Sensor, 0.10" (2.5mm) range with 20 feet (7 meters) cable

Capacitec's 5100 Series Clock Driver and Display Cards:
5100-C: A separate clock driver card is required to drive 1 or more amplifier cards in the 4000 Series racks. It resides in the last rack slot, which is 0.75" wide. This unit offers an x3 amplitude drive adjustable internal switch for supplying a 15kHz standard excitation signal used to match required calibration sensitivity to a specific model displacement probe.
4100-CM3-4.5LED Clock/Meter: This clock card includes a 4.5 digit LED meter panel includes a clock card and multi channel selector switch and uses 2 rack slots plus 1 clock slot. The meter normally reads percent of full scale (i.e. 100.00) or can optionally read in volts DC (i.e. 10.000).
Additonal Options
An upgrade to the 5000 series is the Capteura® 520 Series