Modular Electronic Package Options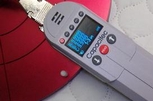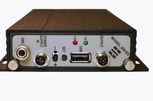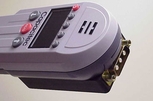 Triple Channel Electronics

The triple channel portable non-contact capacitive instrumentation package can be used with capacitive bore gauges containing 3 non-contact displacement sensors. The instrumentation package contains the following features and benefits:
The Triple Channel package contains three channels of electronics, the equivalent of (3) 4100-SL signal conditioning amplifiers and one 4100-C clock driver card, each providing an accuracy of ± 0.2% of full scale. The also includes a flash memory/data acquisition data logger with a standard RS232 serial interface.
The Triple Channel can measure:-3 channels for applications such as parallelism or leveling; -2 channels for use as a higher accuracy version of our popular Gapman portable gap measurement instrument or -1 channel for use as an individual single point sensor with two additional different sensitivity calibrations
The Display can show up to 3 active measurement channels, or two channels and one math result with engineering units switchable from the front panel.
Up to three set-ups can be defined and the package supports multiple wands and calibrations.
The software options allow users to
Display data
Save data (up to 100,000 data points) and
Send data (site location, time and date stamped) to an external computer via an RS232 port.
4000 Series Non-Contact Capacitive Displacement Modular Amplifier
DISCONTINUED
Additional option
The 4100 series amplifiers are repairable including the plug in pre-amplifiers - please contact the factory for options
An upgrade to the 4100 series can be found here:
The 4000 Series Modular non-contact capacitive displacement instrumentation is designed to offer the ability to drive maximum cable length with very small sensor diameters yet yield exceptionally large linear ranges. They are available in several bandwidths where 232Hz - 3dB is standard.
The small Euro-style 2U size boards have appeal for small lightweight packaging applications. When coupled with Capacitec multiple channel non-contact displacement probes, they produce a linear output voltage proportional to the gap spacing between the probe and a ground plane. The capacitive amplifier systems are designed to produce stable and reliable operation with excellent gain and zero shift stability with respect to changes in ambient temperature.
The modular amplifier cards are designed to operate with every probe diameter configuration and several sensitivity ranges by simple recalibration.