Thin Gap Sensors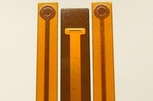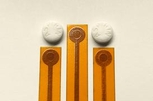 HPD/GPD (double sided) Thin Gap Sensor Wand
HPD Series sensors are typically 0.394" (10mm) wide by a 3.94" to 7.87" (100 to 200mm) long. These double-sided wands are typically used in conjunction with the Gapman or Slot Die Coating System. Gapman wands come standard with Capacitec patented connector free coaxial design or optional FX snap-on connector. GPD Series sensors are typically 0.550" (14mm) wide by a 5.9" to 19.7" (150 to 500mm) long.
Greater range may be substituted for extremely high accuracies of 0.000010 in. (0.25 micron) when using a resolution of 1 Χ 10-6 inches (0.025 micron). Sensors are available with a thickness as low as 0.004" (0.11mm).


Fill in our Inquiry Form and we'll call you for a FREE technical review of your application!
Standard Sensor Wands
All Standard Sensor Wands can be used with the Gapman Electronics Package
Size Key: Inch (mm) Ideal minimum gap = wand thickness + 0.0004" (0.01mm)
STYLES

nominal
Thickness

usaeble
Length

Width

Typical
FS range

Sales drawing

GPD-2 SERIES

GPD-2(.0074)-A-150

0.007
(0.19)

5.905
(150)

0.551
(14.00)

0.040
(1.00)

GPD-2(.013)-A-150

0.013
(0.33)

5.905
(150)

0.551
(14.00)

0.040
(1.00)

GPD-2F(.016)-A-150

0.016
(0.41)

5.905
(150)

0.551
(14.00)

0.040
(1.00)

GPD-2(.018)-A-150

0.018
(0.47)

5.905
(150)

0.551
(14.00)

0.040
(1.00)

GPD-2(.020)-A-150

0.020
(0.51)

5.905
(150)

0.551
(14.00)

0.040
(1.00)

GPD-2(.024)-A-150

0.024
(0.61)

5.905
(150)

0.551
(14.00)

0.040
(1.00)

GPD-2(.028)-A-150

0.028
(0.71)

5.905
(150)

0.551
(14.00)

0.040
(1.00)

GPD-2(.031)-A-150

0.031
(0.79)

5.905
(150)

0.551
(14.00)

0.040
(1.00)

GPD-2(.038)-A-150

.038
(.97)

5.905
(150)

0.551
(14.00)

0.040
(1.00)

GPD-2G-A-150


0.010
(0.25)

5.905
(150)

0.551
(14.00)

0.040
(1.00)

GPD-4 SERIES

GPD-4F-A-350


0.016
(0.41)

13.780
(350)

0.551
(14.00)

0.080
(2.00)

GPD-4.5(.0075)-A-250


0.008
(0.19)

9.843
(250)

0.551
(14.00)

0.090
(2.25)

5509-7224
(OBSOLETE, REPLACED
BY 5509-9060)

GPD-4.5G-A-250

0.008
(0.20)

9.843
(250)

0.551
(14.00)

0.100
(2.500)

GPD-5 SERIES

GPD-5G-A-150

0.009
(0.23)

5.905
(150)

0.551
(14.00)

0.100
(2.50)

GPD-5F-A-200

0.016
(0.41)

7.874
(200)

0.551
(14.00)

0.100
(2.50)

GPD-5G-A-200

0.009
(0.23)

7.874
(200)

0.551
(14.00)

0.100
(2.50)

GPD-5F-A-500

0.016
(0.41)

19.685
(500)

0.551
(14.00)

0.100
(2.50)

GPD-5F-E-150

0.016
(0.41)

5.905
(150)

0.551
(14.00)

0.100
(2.50)

GPD-5F-A-800

0.16

(0.40)

31.496

(800)

0.472

(12.00)

0.100

(2.50)

5509-8542

GPD-7 SERIES

GPD-7F-A-200

0.016
(0.41)

7.874
(200)

0.551
(14.00)

0.140
(3.50)

GPD-7F-A-250

0.16

(0.40)

9.843

(250)

0.551

(14.00)

0.140

(3.50)

5509-8506
GPD-7F-A-500

0.16

(0.40)

19.685

(500)

0.551

(14.00)

0.140

(3.50)

5509-8505

GPD-10 SERIES

GPD-10F-A-350

0.017
(0.43)

13.780
(350)

0.866
(22.00)

0.200
(5.00)

GPD-10F-A-150

0.16

(0.40)

5.905

(150)

1.062

(26.97)

0.200

(5.0)

5509-8677
GPD 20X30 SERIES
GPD-20X30SP-A-800

0.039

(1.00)

31.5

(800)

1.378

(35.00)

0.472

(12.00)

5509-5991

GPD-CUSTOM

GPD-0.75x6G-A-150

0.009
(0.23)

5.905
(150)

0.551
(14.00)

0.047
(1.20)

GPD-(3X1)I-A-225

0.006
(0.16)

8.858
(225)

0.551
(14.00)

0.038
(0.98)

GPD-3-E+ (250°C)

GPD-3(.038)-Eplus-150

0.038

(0.965)

5.905

(150)

0.551

(14.00)

0.06

(1.50)

5509-8206
GPD-3(.057)-Eplus-150

0.057

(1.45)

5.905

(150)

0.551

(14.00)

0.06

(1.50)

5509-8201
GPD-3(.066)-Eplus-150

0.066

(1.68)

5.905

(150)

0.551
(14.00)
0.06
(1.50)
5509-9104
GPD-3(.079)-Eplus-150

0.079

(2.01)

5.905

(150)

0.551
(14.00)
0.06
(1.50)
5509-9104
GPD-3(.105)-Eplus-150

0.105

(2.67)

5.905

(150)

0.551
(14.00)
0.06
(1.50)
5509-9104
GPD-3(.127)-Eplus-150

0.127

(3.23)

5.905

(150)

0.551
(14.00)
0.06
(1.50)
5509-9104
GPD-3(.146)-Eplus-150
0.146
(3.71)
5.905
(150)
0.551
(14.00)
0.06
(1.50)
5509-9104