High Temperature Non-Contact Displacement Sensors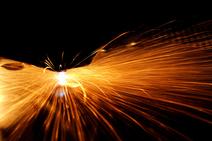 Capacitec high temperature non-contact displacement sensing technology has been in use for over 20 years in North America, Europe and Japan in the most demanding extreme temperature applications due to Capacitec's unique combination of a very small sensor diameter, large range and long cable lengths functioning at temperatures over 482°F to 1,832°F (250°C to 1,000°C).
Here are some examples:
Disc Brake Thickness Variation Analysis
Capacitec Model HPC-150C-H an "H" High Temperature sensor assembly offers small size OD 0.375" (9.5 mm), large range 0.10" (2.5 mm) and 10 microinch (0.25 micron) resolution. Operating to 750°F (400°C), they are used to test runout, thickness variation, coning, wobble and thermal expansion of disc brake rotors.
Disc Brake Wear Analysis Sensors Brochure
Aircraft and Power Turbine Testing
Operating in temperatures of up to 1,800°F (1,000°C), Capacitec Model HPC-75-V/S "S" a Super High Temperature capacitive non-contact displacement sensors measure thermal expansion, axial motion and radial runout to confirm that dimensional design parameters meet specifications at glowing white-hot operating temperatures.
Aerospace Brochure
Automotive Windshield Glass Production
Manufacturing equipment incorporates Model HPC-500-V, a "V" Very High Temperature sensor, with flexible high temperature cables. These very high temperature non contact displacement sensors measure gaps in the tooling at production temperatures of 1,600°F (870°C), to ensure precise glass size and shape specifications at red-hot temperatures.
Solar Panel Coatings
Capacitec custom gap sensors with 4 meters of 1,200°F (650°C) high temperature cables are used to control thickness of anti-reflective and solar coatings on glass panels. Non-contact very high temperature displacement sensors are also used to measure the gap between a CVD coater head and metal roller in the production of flexible solar panels during production at 1,100°F (600°C).